1. Places of Interest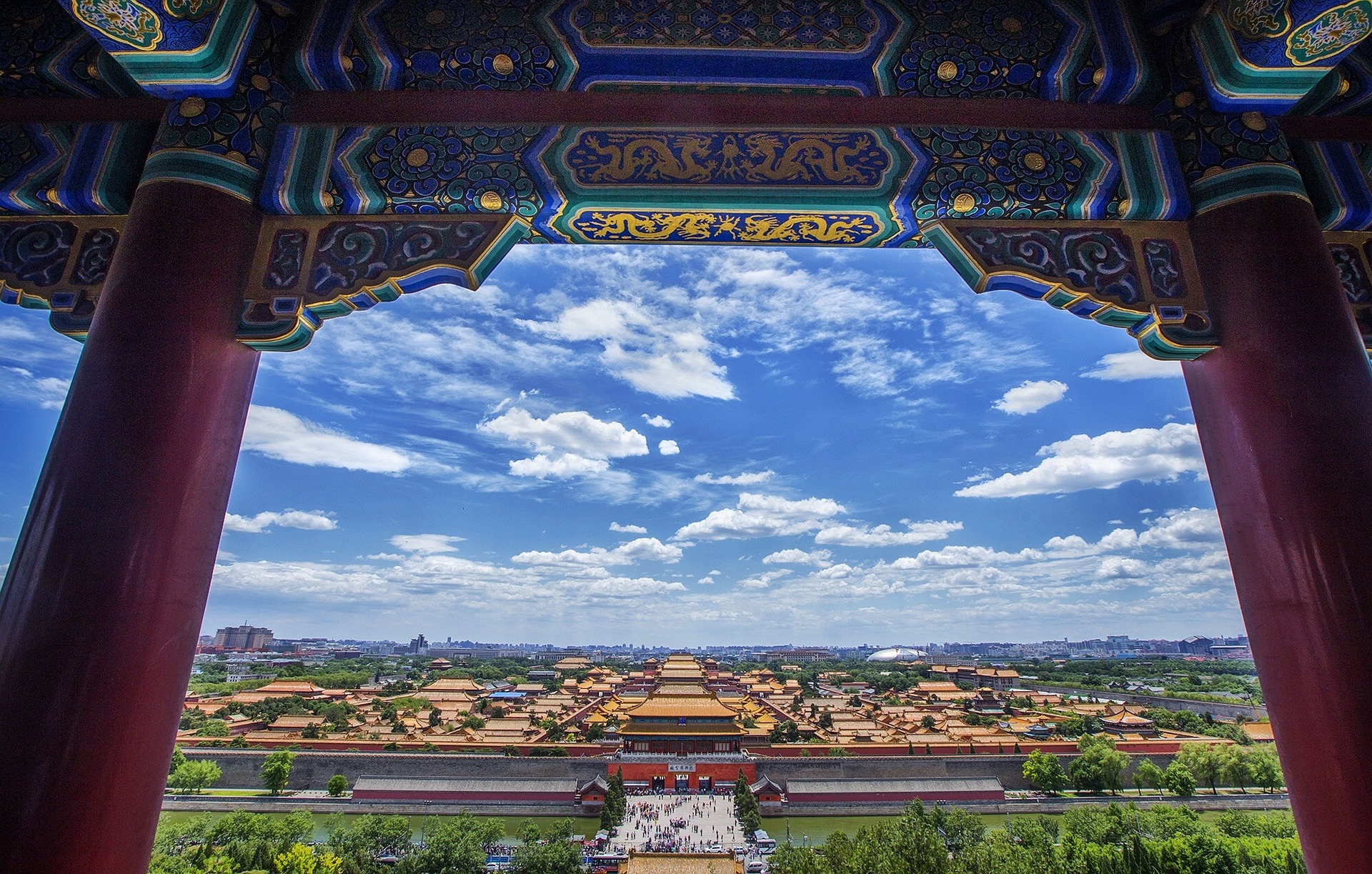 Beijing is home to a large number of ancient palace complexes, royal gardens, temples and temples, imperial tombs, ancient pagodas and stone carvings, former residences of famous people, as well as magnificent ancient and modern buildings, museums and monuments. Some of the famous ones are the Forbidden City in the middle of Beijing – the Palace Museum, Tiananmen Square, the Temple of Gods and Goddesses of Mercy (Zhongshan Park), the Imperial ancestral temple (Palace of Workers' Culture), the Great Hall of the People in Tiananmen Square, the Museum of Chinese Revolutionary History, the Monument to the People's Heroes, Chairman Mao's Memorial Hall, and the Jingshan and Beihai Park (Ming and Qing Dynasties) outside the northern gate of the Forbidden City. Royal Courtyard).
In Beijing, there are the former residences of Mao Zedong (Zhongnanhai), Song Qingling, Guo Moruo and other celebrities, the famous Temple of Heaven, Temple of Earth, Temple of the Sun, Temple of the Moon and Tao Ranting of Ming and Qing Dynasties, Zizhu Yuan, Longtan Lake and other parks, the Yonghe Palace, Baiyunguan, Niujie Mosque, Da Zhong Temple and other religious temples, as well as the Beijing Planetarium, Ancient Observatory, Military Museum, Lu Xun Museum, Geological Museum and Natural History Museum.
The main attractions in the suburbs of Beijing are the Summer Palace, Yuanmingyuan ruins, Fragrant Hill, Biyun Temple, the eight places in Xishan, Fahai Temple, Dabaotai Han's tomb, Lugouqiao, Tuanhe Palace, the far suburbs of the Ming Tombs, Juyongguan Badaling, Mutianyu, Jinshan, Simatai and other places of the Great Wall, Baihua Mountain, Lingshan Mountain, Miaofeng Mountain, Da Jue Temple, Longqingxia, Song Mountain, Kangxi grassland, Heilongtan, the first waterfall in Kyoto, Yunfeng Mountain, Tan Ku Temple, Quitai Temple, Longmenjian, above the mountain Yunshui Cave, Shihua Cave and Jiaozhuangdu.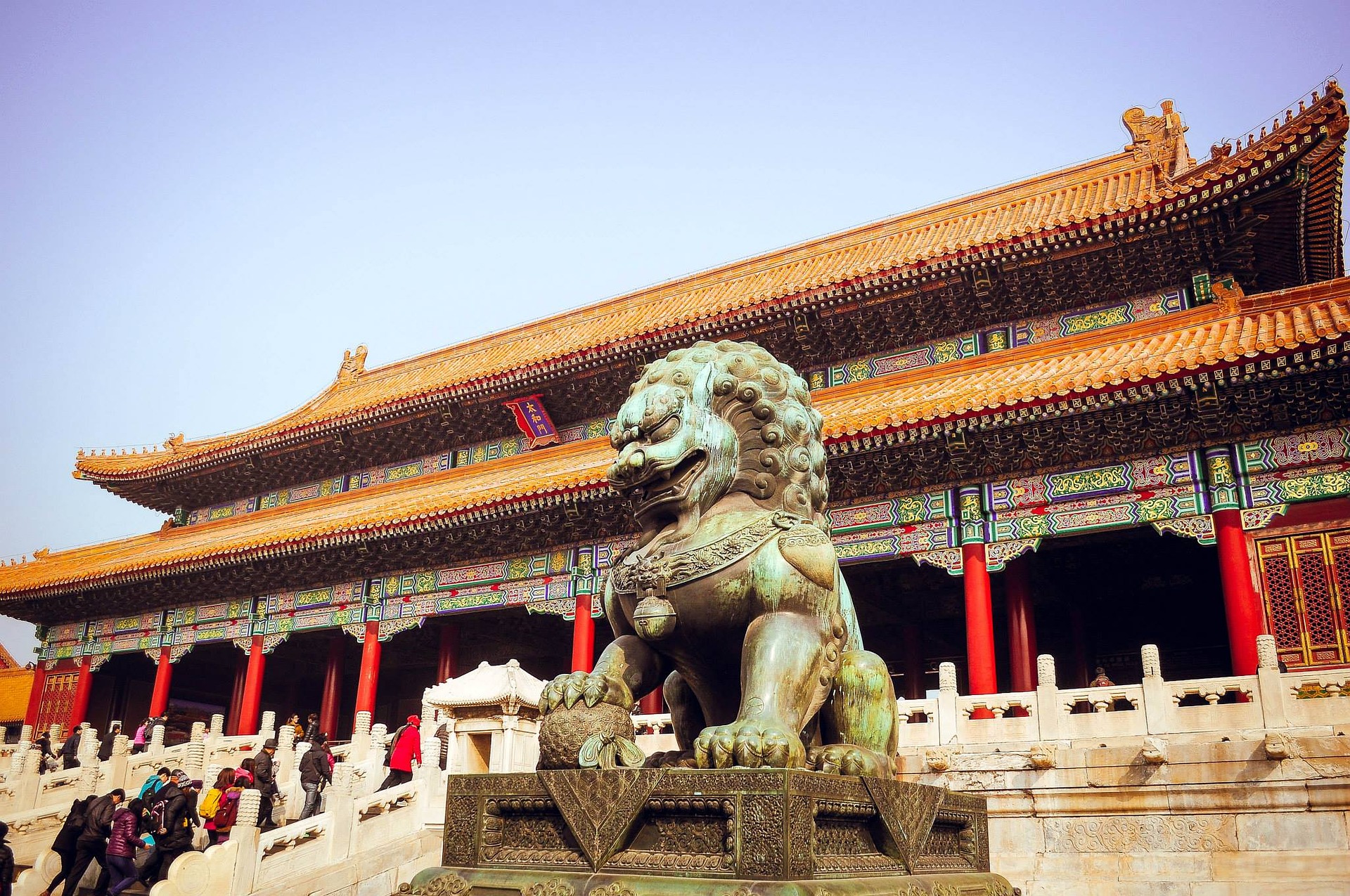 2.Special Diet
Beijing has been an important town in northern China since the Spring and Autumn and Warring States Periods, with the capitals of the Liao, Jin, Yuan, Ming and Qing Dynasties established successively. Cultures from all over the world and all over the country meet and exchange here. In terms of food culture, "Beijing Cuisine" has been formed, which is a collection of hundreds of flavors, eclectic, elegant, unique style and self-contained system. "Beijing Cuisine" is composed of local Beijing dishes, Halal dishes based on beef and mutton, court dishes from the Ming and Qing Dynasties, Tan family dishes with fine workmanship and seafood, as well as dishes from other provinces and cities. Shandong cuisine had a profound influence on the formation of Beijing cuisine, and is the foundation of Beijing cuisine. There are many restaurants in Beijing that serve Shandong cuisine. The Jiao Dong School and Jinan School of Shandong are fused and exchanged with each other in Beijing, forming the main techniques of popping, frying, deep-frying, sautéing, stir-frying, steaming, roasting and so on, with strong taste and crisp and fresh taste of Beijing.
In addition, Beijing snacks are also very distinctive. In Beijing, snacks commonly known as "bumper food" or "dish tea", a combination of Han, Hui, Mongolian, Manchu and other multi-ethnic flavor snacks as well as the Ming and Qing Palace snacks and formed, more varieties, unique flavor. Beijing snacks about two, three hundred kinds. Including small dishes to accompany meals and drinks (such as white water sheep's head, fried tripe, white kui roasted sheep's head, mustard pier, etc.), banquets used in the pastry (such as a small nest head, end of meat biscuits, sheep's eye buns, Wufu Shoutao, mashroom bun, etc.) and for snacks or early, night skies of a variety of small foods (such as Ai Wo Wo, donkey roll, etc.). The most Peking characteristics of the bean juice, enema, fried liver, hemp tofu, fried noodles, etc.. Some old shop specializes in its characteristic varieties, for the imitation of the meal of the restaurant's small nest, meat biscuits, pea yellow, kidney bean rolls, Fengze Garden Restaurant's silver silk rolls, Dong Lai Shun Restaurant's creamy fried cake, Hop Yi Zhai Restaurant's large sausage, with the House of roasted steamed bread, Beijing Restaurant's sesame mushroom bun, Dashun Zhai points factory sugar fire, etc., other various types of snacks in the Beijing snack shops and night market food stalls are sold.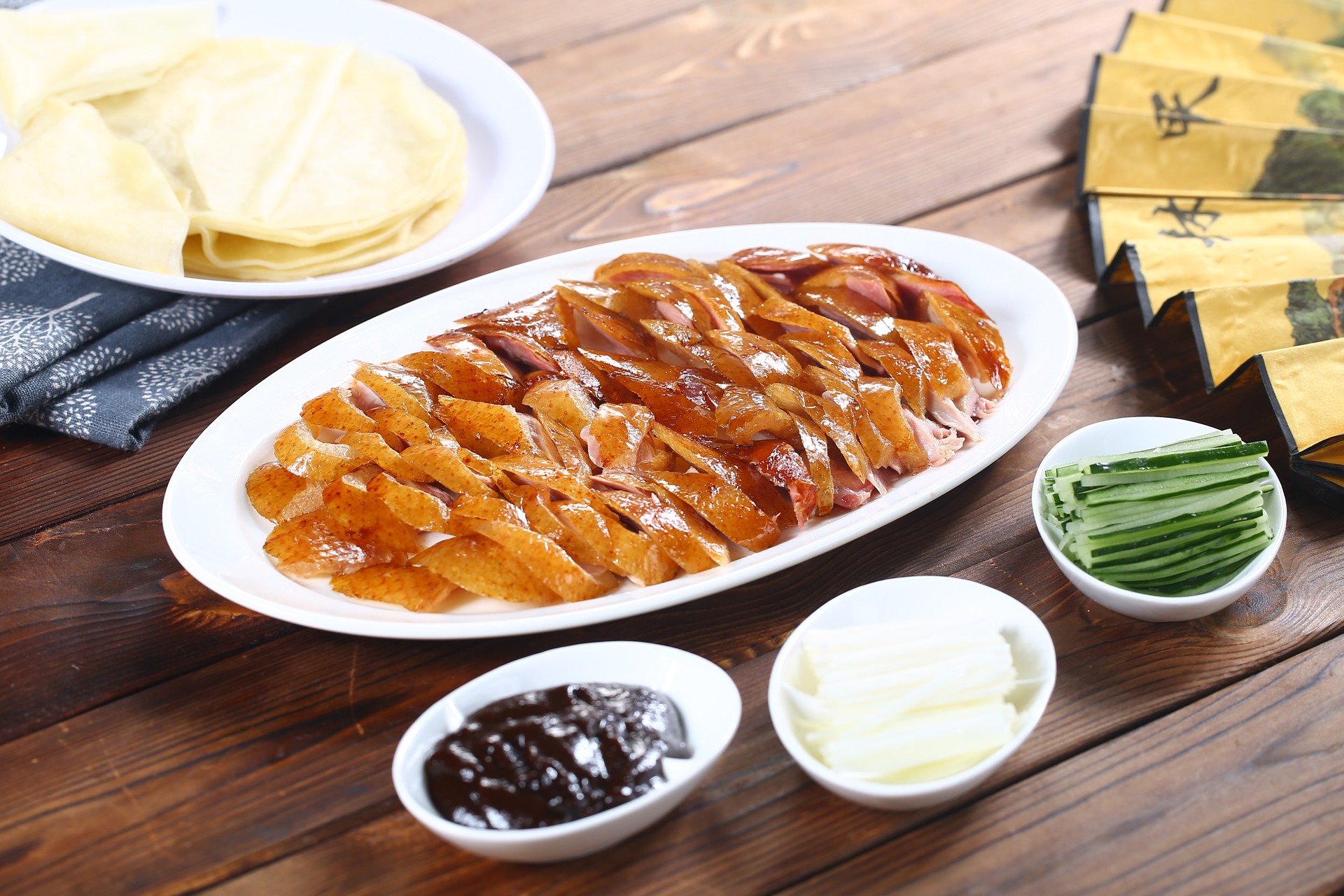 3. Folklore
Beijing is a world-famous ancient city of culture, where the unique cultures of many nationalities have permeated and blended to form local folklore, which is an important part of the history of Chinese national folk culture, including marketplaces and temples, seasonal festivals, marriages and funerals, etc., and is very rich in content.
(1) Beijing courtyard houses and hutongs
Beijing courtyard house is the main architectural form of the old Beijing people for generations, containing profound cultural connotations. Since the Yuan Dynasty, when the capital city of Beijing was officially established and large-scale planning and construction was carried out, courtyard houses have appeared at the same time as palaces, government offices, neighborhoods, alleys and hutongs in Beijing. Since the Ming and Qing Dynasties, although the courtyard houses in Beijing have gone through many vicissitudes, this basic form of living has been formed and continuously improved to better suit the living requirements, resulting in the form of courtyard houses we see today. The courtyard house in Beijing is also famous because of its unique composition, which is typical and representative of traditional residential architecture in China. Why is it called a "courtyard house"? Because this type of residence has four houses, namely, the main house (the north house), the inverted house (the south house), the east wing and the west wing, enclosed on all sides to form a kou shape, in which there is a central courtyard, so this courtyard-style residence is called a courtyard. Beijing courtyard houses are typical of their neat and regular pattern, and among the various types of courtyard houses, Beijing courtyard houses can represent their main characteristics.
Hutong is a local feature of Beijing's streets. Hutong was formed in the Yuan Dynasty, with Kublai Khan's construction of the metropolitan city of Yuan began to form. The city was built in 1267, and its neatly planned architecture gave rise to hutongs. In layman's terms, a hutong is a general term for the streets of Beijing. It is a representative term because of its size and the local characteristics it concentrates on as a group. As the saying goes, "There are three hundred and sixty famous hutongs, but nameless hutongs are like cow hairs." The names of Beijing's hutongs vary, and each name has a unique origin behind it. For example, the narrowest hutong – Qianshi Hutong – is only 40 centimeters at its narrowest point in the middle of the hutong. The widest hutong, Lingjing Hutong, is 32.18 meters wide at its widest point, and the oldest hutong, Jiuwan Hutong, is a brick tower hutong from the Yuan Dynasty.
(2)Peking Opera and Acapella
Among the various art forms, Peking Opera is probably the most representative of traditional Chinese culture. The main feature of Peking Opera is often referred to as "comprehensive theatre" because it is a complete blend of dance, song, drama, mime, martial arts and poetry. It is a very unique art form that incorporates stylized and rhythmic movements, simple and precise scores, imaginative plots, and compelling characters. The singing, rhythm, and melody vary according to the characters' thoughts and feelings. Peking Opera is a unique blend of realism and abstraction, creating a subtle formula full of dramatic ideas.
Crosstalk originated in Beijing and is popular throughout the country. It is generally believed to have formed during the Xianfeng and Tongzhi periods of the Qing Dynasty. It is a form of music and art that makes the audience laugh by telling jokes or comic quizzes. It evolved from the Song dynasty's "like Sheng". By the late Jing Dynasty, the modern characteristics and style of comic opera had developed. It is mainly spoken in Beijing dialect, but there are also "dialect comic dialogues" spoken in local dialects around the world. In the process of the formation of comic dialogues, it extensively absorbed the strengths of ventriloquism, storytelling and other arts, and used Zhuang Zhuang in a harmonious way, expressing truth, goodness and beauty with satirical jokes, and making people laugh as its artistic characteristics, with "speaking, learning, teasing and singing" as the main artistic means.
(3) Runway and Temple Fair
The Tianqiao area of old Beijing was a centralized area for culture, entertainment, food and commerce for the commoners of Beijing, and the life of the past in the area is now condensed in the new Tianqiao Le Tea Garden. The tea garden is located in the northwest end of the famous Temple of Heaven Park, is an antique building.
A stage is set up in front of the lobby, with black lacquered hardwood eight fairy tables and chairs, and two wings with doorways selling a variety of Beijing-style snacks. Tea is poured back and forth by waitresses dressed in Chinese cheongsams. Payment must be made in old Chinese copper coins – you can exchange them for modern currency on the spot, in true old-world fashion.
The show at the tea garden is also a "folkloric skit", the most worthwhile of which is a performance by the "Eight Ghosts" of Old Tianqiao, who are considered to be the idols of old Beijing. Their performances are divided into cultural and martial arts. Wenhua has Sun Baocai, Bi Xuexiang's double reed, Hu Yumin, Fu Baoshan's crosstalk, Tian Baoshan and other nine people's blowing drum music, Zhang Shanzeng's "white sand scattering", Luo Haoran's pull foreign tablets, Pan Changlin's classical juggling, Yang Yongxiang's ventriloquism, etc.; Wuhua has Zhou Mao Xing, Li Bao Ru and other people's streamers, wrestling and hard qigong, etc..
Beijing's temple fairs are a kind of folk entertainment that combines food, drink and fun. Because it originates from the temple, so it is called "temple"; And because the small businessmen see the many people who burn incense and worship Buddha, they set up all kinds of stalls outside the temple to earn their money, and gradually become a regular activity, so it is called "meeting".
Temple fairs are mostly held in the Spring Festival, where various folk art performances, rich Beijing snacks and folk crafts are the most attractive. The performers will tie a satin red flag to a 7-meter-long, bowl-thick bamboo pole and throw and catch it with their hands, arms, mouth and forehead, which is very thrilling.
4. Entertainment and shopping
Beijing's deep cultural heritage has given rise to arts and crafts and tourist souvenirs that are very characteristic of Beijing. Featured tourist goods such as silk flowers and silk people, cloisonné and Beijing dried fruit. "Silk flower", also known as Beijing flower, is a famous traditional handicraft in Beijing. In the Tang Dynasty, silk flowers had become head accessories for court and folk women. By the middle of the Qing Dynasty, the production and production of silk flowers entered a heyday. The production of silk flowers requires exquisite and skillful skills, and craftsmanship is very demanding. Up to now, there are more than two thousand varieties of silk flowers, the latest varieties include candle holder garlands that are not afraid of fire, silk flower branches that are not afraid of water and so on. These ornamental and practical silk flowers are now sold in the international market and welcomed by foreign friends. The silk people, a traditional national handicraft of Beijing, has a history of more than a thousand years. The head, face and hands of the silk people are all made of silk, from head to toe, from inside to outside are made of the best quality silk and gauze, which gives the name of "silk people". Beijing silk people, beautifully made, different looks, brilliant colors, elegant style, has a high appreciation and collection value.
Cloisonné, also known as enamel, is a kind of metal crafts, with copper as the tire, the cloisonné, point blue, burned blue, polished and gilded from. The finished product has all kinds of utensils, lamps, lamps, smoking utensils, etc., both the small not surplus inch of desk furnishings and jewelry, but also a large hall of display items. It originated in the Yuan dynasty and flourished during the Ming dynasty (1450-1456), is a traditional Chinese handicraft, has been several hundred years of history. Because its glaze color is mainly blue, the ancient name is cloisonné.
Beijing is the birthplace of cloisonné technology. The original cloisonné is mostly antique bronze vessels, to the Ming dynasty Jingtai years, the craftsmen found a deep blue blue glaze material, with this material production of crafts dignified and rich, calm and generous, which is today's "cloisonné"; Qing dynasty Qianlong years using a better extension of pure copper as raw materials, so that the cloisonné process reached its peak. It is especially exquisite during the Xuande period of the Ming Dynasty. Cloisonné is a kind of unique craft that combines porcelain and copper. The tires are first made of copper, then flat copper wires are glued on the tires to make patterns, and then enamel glazes of different colors are used to fill in the patterns. This process is completed only after repeated sintering, polished and gilded. It can be said that the production process of Jing Tai Lan uses both bronze and porcelain techniques, while also introducing a large number of traditional painting and carving techniques, can be called the culmination of traditional Chinese crafts.
In Beijing, the characteristic commercial streets are Beijing Antique City, Liulichang Cultural Street, Panjiayuan Old Goods Market, and so on.
Beijing is a hub of international communication and a modern metropolis. It has large shopping malls, such as Dongdan Silver Street, Lufthansa Friendship Shopping Center, Sete Shopping Center and so on.
Beijing is not only the political, cultural, and international hub of the country but also a famous historical and cultural city. Along with Xi'an, Luoyang, Kaifeng, Nanjing, and Hangzhou, it is also known as one of the six ancient capitals of China. Old Beijing has a long history and deep humanistic deposits, forming a distinctive Beijing style. Although modernity and style have added a modern atmosphere to the city, the authentic taste of old Beijing still remains.